Copyright © 2016-17 by David Parlett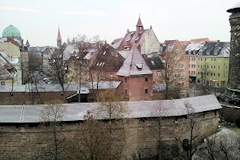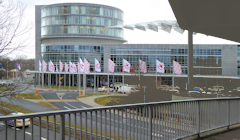 Nürnberg - view of the Altstadt & Eingang Ost (West entrance) from the U-Bahn
I've been going to the Nuremberg Games Fair on and off since 1980 and it doesn't get any easier to find your way around. The exhibition complex is so large that to get from the west entrance, where the U-Bahn stops, to the east entrance, where the Press Centre starts, you have to take a 10-minute shuttle service round the outside.
And then, if it's games you're interested in rather than model railways, cuddly toys, and people waddling around dressed up as frogs or chickens, it's a long and winding walk from the Press Centre to exhibition halls 10, 11 and 12 where all the games companies traditionally congregate. As to the design of the place - all hexagonal halls and tiles - it's enough to drive a bee mad. As Alex Randolph used to complain, years ago, "I'm just not built that way!"
Apart from that, the place hasn't changed much in 35 years. For me, visiting the Spielwarenmesse is like travelling back in time, except that nowadays there seem to be more tablets and smartphones than people. It would be difficult to summarise the games on display, given that the games halls, occupying a good third of the whole complex, housed nigh on 1000 exhibitors, ranging from giants like Ravensburgerand Kosmos to tiny fly-by-nights so small I could hardly read their names.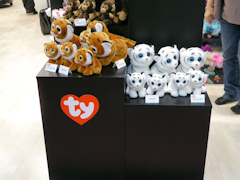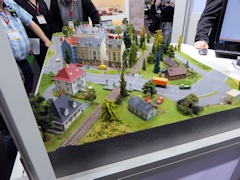 Dinosaurs - cuddly toys - model railways - you can't get away from them!
Perhaps it would be fair to mention three impressions. First, the increasing number of franchises and TV-linked themes (especially Star Wars, with a new series of films coming out between now and 2020); second, a comparable increase in (card-)board games with an additional digital element; third, an increasing number of what I think can reasonably be classed as abstract family games, as distinct from strategic two-player abstracts. These, I think, must be still trading on the success of Quirkle as winner of the 2011 Spiel des Jahres. Equally prominent, however, is an undiminished concentration on fantasy games, which are not my cup of tea at all.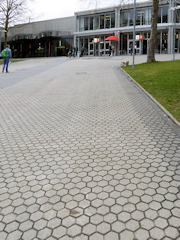 Enough to drive a bee mad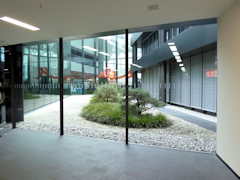 But there are some quiet spots...
My first port of call was Abacus, whose most prominent novelty was Cacao, a tile game which "takes the players into the exotic world of the Fruit of the Gods", making each of them a tribal chief trying to lead their tribe to fame and wealth by growing and trading in cacao. A nice promotional touch, not to mention taste, was the accompanying bar of specially packaged "Cacao" chocolate. There were also yet more spin-offs and developments of Zooloretto, winner of the 2007 Spiel des Jahres.
At Ravensburger's stand I liked the look of Reiner Knizia's latest creation Drachenhort (The Dragon's Hoard), a family game in which up to seven adventurers have to escape from the dragon's dungeon by a process of card-play and bluff. I also liked the idea of Stichling (which means stickleback, but is also a diminutive of the word for trick), a clever card game by Ralf zur Linde in which you play to up to four tricks at a time and can't be sure of success till all are complete. Not yet on display, but listed in their catalogue, is a Star Wars card game called Duell der Mächte (Duel of the Powerful), for which I provided the mechanism. "Who" runs the description "will succeed in defeating the greatest number of Star Wars villains through clever card-play and garnering of victory points? But beware of Darth Vader - at the end of the game he can make off with some of your winnings."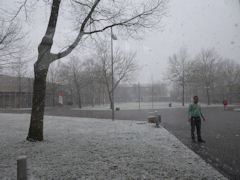 Not the warmest of weathers
I was pleased to see Amigo still producing Café International, the 1989 Spiel des Jahres which I still enjoy playing. A prominent novelty of theirs was Bubble Bomb, in which "players use their bubbles to create bombs, or perhaps set bombs off - whatever the case might be, you need to get your bubbles in order to match target bombs and win". I was hoping to see advance copies of my game of dice bearing Roman numerals and called Römisch Pokern. Unfortunately it wasn't ready yet, but Uwe Mölter assured me it would be in the shops by August.
By coincidence, Niek Neuwahl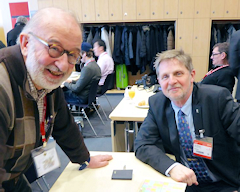 Niek Neuwahl and Dan Glimne at the fair was also developing a Roman-numeral dice game at about the same time and I was pleased (I think!) to see his on display under the title Ludix, published by Piatnik. I'm glad to say that there's not much of an overlap between our two embodiments of the Roman theme. Of Piatnik's other new items I naturally couldn't help being struck by Absolutely English - "A fun and effective game for improving your English", though what I really need is a fun and effective way of improving my German, which nowadays I only manage to speak in an emergency.
Card games are more my passion, so I was immediately struck by a large visual display wrapped around the stand of Cartamundi, ASS, and other manufacturers, outlining key moments in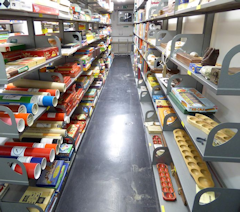 the history of card games. Some of the info struck me as questionable and I mentioned it to Stefan Luther, General Manager of ASS. This led to a discussion on challenges facing the playing-card industry today, on which I hope to write a separate article, and will let you know when I've done it.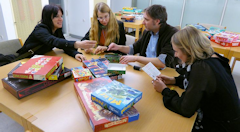 Meanwhile, in another part of town, at the German Games Archive, this year saw the opening, on 29 January, of a new permanent display celebrating the life and games of my late friend Alex Randolph, together with a special one-off display of versions of my game Hare &Tortoise. Pictured left are a small corner of the archive, and enthusiasts playing Alex's games at the opening.