29 June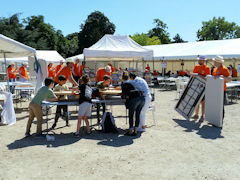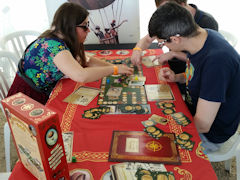 Had a great weekend at the 5th annual'Paris est Ludique' event, in sunny weather with temperatures up to 30C. This is accurately described as a day of fun for fans and families of all ages, and well lived up to the claim. It's full of helpers clearly identified by their orange shirts (left), and at the PurpleBrain/Asmodée stand I came across these players engrossed in Around the World in 80 Days. In the ensuing four-player game I came second, which is better than I usually do at its earlier incarnation as Hare & Tortoise.
18 June
Way behind with updates

because I've been busy correecting proofs of my revised History of Board Games, which I hope will be out this year. I've also been to Athens for this year's Board Game Studies Colloquium and to Göttingen, as always, for the games inventors fair. Here I was presented with the "Göttinger Spatz" award (pictured - it's supposed to be a sparrow) for my general contribution to games. At least, I think that's what it was for - it seemed to be more for Hare & Tortoise than anything else. But it was very pleasing to learn that a previous recipient was the great Alex Randolph.
1 April
Spent a couple of days in Vienna
in March visiting my agent Anita Landgraf at
White Castle Games
. Now getting ready to correct proofs of my new book of card games for
Flame Tree Publishing
and of my updated
History of Board Games
for
Echo Point Books
. I'm also revising my talk on
Strutt's Sports and Pastimes of the People of England
to be presented at the forthcoming Board Game Studies Colloquium at Athens later this month. And I've been asked to consider revising, or at least correcting, my
History of Card Games
for translation into French, and will be visiting
Paris Est Ludique
in June to meet the publisher. I've also had a nice legal consultancy job in respect of
Cards Against Humanity
, which is more of a party game than a card game.
13 February
Players' ratings for
Katarenga
on
BoardGameGeek
now average 7.6 out of 10, which is very pleasing. One reviewer describes it as "A weird chess variant" and another as "Chess on stilts", so I suppose I'd better acknowledge it as a chess variant. It lacks the defining feature of king-capture, though, so I think it's more accurately classified as a race game. Especially as I'm preparing to do my race game workshop again at the University of Sussex (Ipswich) next week.
I'm just expanding my Agreement with Gibsons Games to extend their marketing territory for
Chicken Out!
from UK and Ireland to the whole of Anglophonia. (I thought I'd just invented that word, but, as so often happens, the Oxford English Dictionary got there first.)
I've just finished writing a book of card games for Flametree Books, and have had a useful little legal consultancy job of which more anon.
And I'm expecting proofs of my revised History of Board Games in the near future, which is just as well as if it lingers any longer it'll be out of date again - if it wasn't already when I finished it last June.
20 December
Katarenga
continues to get high ratings on
BoardGameGeek
, though I'd like to see a few more reviews.
Huch
have been publishing on their Facebook page other games to play with the same equipment and rules, and I've just added half a dozen more to my website.
2 December
Just heard that Gibsons edition of Chicken Out! has won a
Creative Play
award from Toy World (category: Indoor Games 8-11 years). I didn't invent it for children - in fact it's the one I play most with my wrinkly peers! - but Gibsons' design is more specifically targeted at the younger end of the market. Katarenga is getting high user ratings on
BoardGameGeek.
but at time of writing that's only based on 13 votes. The publisher, Huch, is now adding to its
Facebook
page other games playable with the same equipment and rules of play, and I'm supposed to be following suit, but am a bit behind in that department.
I recently discovered
Ludoquist
, a brand new games café in Croydon, by the simple process of walking past it. Co-owner Nick Smith has expressed interest in my demonstrating Katarenga in a sort of publicity event as soon as I've received more sample copies. It will be distributed in UK by Esdevium Games, whose website includes a world-wide map of game stores, but I don't know if they've started yet.
Returned last week from the Dau Barcelona event, where my Swedish friend and colleague Dan Glimne received the special award for a life of dedication to promoting games as a cultural pursuit. Each recipient is nominated by the previous two, so Dan and I are already thinking about the 2018 award. Dau Barcelona is rapidly becoming one of the world's major public gaming events. It was bigger than ever this year, so much so that on Sunday we couldn't get into the playing hall because of the queues. The standard of inventors' new prototypes is getting higher and higher, especially in the design department.
7 November
Updated my complete list of
published games
.
1 November
Back from Essen where Katarenga got its first outing with real people (as opposed to guinea-pigs). Top row: Huch rep giving instruction (the player on the right seems to have gone to sleep); two teaching themselves from the rule book; bottom row: concentration and consultation; me at Essen with Tom Werneck (Germany) and Dan Glimne (Sweden) - we've been getting together now for nigh on 40 years!
21 October
On the 18th I was delighted to be awarded an honorary doctorate in game studies and design by the
University of Suffolk
at Ipswich. More updating when I return from the Essen Games Fair. (See below.)
9 October
Getting ready for this year's
Spiel Essen
(26-29 October). I have only one new game to show, but am looking forward to the launch of my game Colorado, which Huch will be releasing under the title Katarenga. Meanwhile, Gibsons Games have released their version of Chicken Out!. It has nice artwork, differing in design from the Piatnik edition released earlier this year, and is more strongly angled to the age 7+ family market.
25 August
Finished revising my Oxford History of Board Games two weeks ago and spent last week in South Wales rediscovering childhood haunts (Barry, Aberthaw, Southerndown, Ogmore-by-Sea, Candleston). On the 23rd 22 people signed up for this year's
Hare & Tortoise
championship at the Mind Sports Olympiad, but in the event only 17 actually turned up. Andres Kuusk (Finland) won the gold, for the second time. We had some difficulty in fitting four 45-minute games into the time available and I will be posting some new tournaments rule for the 2018 event.
1 August
It's been a tough job working on updates to my Oxford History of Board Games, especially as I have to keep to the same pagination as the original published in 1999, This has prevented me fromdoing what I really should have preferred, namely to tear it apart and start again from scratch. In which case, I suppose, I might never have got round to finishing it. I've had lots of helpful input from experts in their field, mostly members of the
International Board Game Studies Association
. Now looking forward to clearing my desk and getting back to inventing games.
2 July
Just received my copies of Piatnik's edition of "Chicken Out!", with stunning designs. When I have a moment I'll open a page on it, but at the moment I'm too busy working on revisions to my Oxford History of Board Games. I'm equally pleased with the Chicken Out! designs currently drafting by
Gibsons Games
, which will be on display at Harrogate in July and in the shops by September. Very pleased also to hear that my friend John Powers' first game "Crystal Hall" is to be published by Gibsons games next year. I don't usually go for things involvings wizards and spells, but find this one quite spellbinding.
13 June 2017
Just back from this year's games inventors fair at Göttingen, where I saw some excellent artwork for my board game Colorado to be launched (under another title) by Huch Spiele at Spiel Essen in October. Its visual design has a distinct flavour of Islamic art, which I've always liked for its geometric perfection. Pics to follow soon.
22 May 2017
Back from 21st Board Game Studies Colloquium in Copenhagen. On the whole a very high standard of papers presented. We enjoyed some warm, sunny days. Next year's Colloquium will be in Athens, where we may have even warmer weather. Now I must start getting stuff ready for this year's Games Inventors Fair at Göttingen (10-11 June). Just heard this year's Hare & Tortoise tournament at the Mind Sports Olympiad will be on Wednesday 23 August. Oh, and yes, I managed to sort out my website problem!
14 May 2017
Looking forward to this years Board Game Studies Colloquium in Copenhagen next week (17th to 21st May). I was going to give my talk on Joseph Strutt's Sports and Pastimes of the English People (1801), but voluntarily withdrew it when the programme got too full. Besides, I've already done it twice elsewhere. Before I go I must try to sort out why my games website isn't coming up when I click on my tab for, or enter in the URL bar, "www.parlettgames.uk" unless I also stick "/index.html" on the end.
24 April 2017
Just heard that

Around the World in 80 Days
is a recipient of the
Mensa Select
award for 2017. This annual award is given by American Mensa since 1990 to five board games that are "original, challenging and well designed". The awards are presented at the annual Mensa Mind Games competition, held this year at Herndon, Virginia. Mind Games 2018 will take place in Denver, Colorado.
1 March 2017 (Dydd Dewi Sant)
I've started work on a revision of my Oxford History of Board Games and have been housekeeping on my website. I'd like to do a lot of redesigning on it, but wonder whether I'll ever find the time.
16 February 2017
Been there, done that, caught a cold. At Nuremberg stayed in the Youth Hostel at the Maxtor, which turned out to be more like a 4-star hotel than the wooden-shack hostels I last used in the 1960s. Comfortable beds, delicious continental breakfast - but a bit bemused by the motion-activated (!) light switch in the loo - it kept turning itself on and off during the night though no one in residence.
Saw advance designs for box lids of two of my games coming out this year. Colorado is an ingenious abstract with a variable board capable of over 24,000 different initial set-ups. The game is so titled from its colourful board , but I think Huch Spiele want to change it.