1 August
It's been a tough job working on updates to my Oxford History of Board Games, especially as I have to keep to the same pagination as the originasl published in 1999, This has prevented me fromdoing what I really should have preferred, namely to tear it apart and start again from scratch. In which case, I suppose, I might never have got round to finishing it. I've had lots of helpful input from experts in their field, mostly members of the
International Board Game Studies Association
. Now looking forward to clearing my desk and getting back to inventing games.
2 July
Just received my copies of Piatnik's edition of "Chicken Out!", with stunning designs. When I have a moment I'll open a page on it, but at the moment I'm too busy working on revisions to my Oxford History of Board Games. I'm equally pleased with the Chicken Out! designs currently drafting by
Gibsons Games
, which will be on display at Harrogate in July and in the shops by September. Very pleased also to hear that my friend John Powers' first game "Crystal Hall" is to be published by Gibsons games next year. I don't usually go for things involvings wizards and spells, but find this one quite spellbinding.
13 June 2017
Just back from this year's games inventors fair at Göttingen, where I saw some excellent artwork for my board game Colorado to be launched (under another title) by Huch Spiele at
Spiel Essen
in October. Its visual design has a distinct flavour of Islamic art, which I've always liked for its geometric perfection. Pics to follow soon.
22 May 2017
Back from 21st Board Game Studies Colloquium in Copenhagen. On the whole a very high standard of papers presented. We enjoyed some warm, sunny days. Next year's Colloquium will be in Athens, where we may have even warmer weather. Now I must start getting stuff ready for this year's Games Inventors Fair at Göttingen (10-11 June). Just heard this year's Hare & Tortoise tournament at the Mind Sports Olympiad will be on Wednesday 23 August. Oh, and yes, I managed to sort out my website problem!
14 May 2017
Looking forward to this years Board Game Studies Colloquium in Copenhagen next week (17th to 21st May). I was going to give my talk on Joseph Strutt's Sports and Pastimes of the English People (1801), but voluntarily withdrew it when the programme got too full. Besides, I've already done it twice elsewhere. Before I go I must try to sort out why my games website isn't coming up when I click on my tab for, or enter in the URL bar, "www.parlettgames.uk" unless I also stick "/index.html" on the end.
24 April 2017
Just heard that

Around the World in 80 Days
is a recipient of the
Mensa Select
award for 2017. This annual award is given by American Mensa since 1990 to five board games that are "original, challenging and well designed". The awards are presented at the annual Mensa Mind Games competition, held this year at Herndon, Virginia. Mind Games 2018 will take place in Denver, Colorado.
1 March 2017 (Dydd Dewi Sant)
I've started work on a revision of my Oxford History of Board Games and have been housekeeping on my website. I'd like to do a lot of redesigning on it, but wonder whether I'll ever find the time.
16 February 2017
Been there, done that, caught a cold. At Nuremberg stayed in the Youth Hostel at the Maxtor, which turned out to be more like a 4-star hotel than the wooden-shack hostels I last used in the 1960s. Comfortable beds, delicious continental breakfast - but a bit bemused by the motion-activated (!) light switch in the loo - it kept turning itself on and off during the night though no one in residence.
Saw advance designs for box lids of two of my games coming out this year. Colorado is an ingenious abstract with a variable board capable of over 24,000 different initial set-ups. The game is so titled from its colourful board , but I think Huch Spiele want to change it.
16 January
Getting ready for the
Toy Fair
at Olympia (I'll be there on 25 January) and the
Nuremberg Toy Fair
the following week. For the first time for a while now I haven't got anything new to show, but am looking forward to seeing advance copies of Piatnik's production of my card game
Chicken Out!
. I've decided to re-do my talk on Strutt's Sports and Pastimes of the People of England at the
Board Game Studies Colloquium
in Copenhagen (17-20 May).
19 December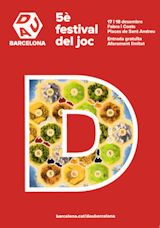 Just back from
Dau Barcelona
, the fifth annual games festival ("Festival del Joc") organised by the Barcelona City Council's Institute of Culture. Most of Spain's 40+ publishers were represented, and over the weekend more than 20,000 people got together to play their favourite games, learn new ones, and (in many case) hopefully display and demonstrate their latest prototypes. At a ceremony on the evening of 16 December I was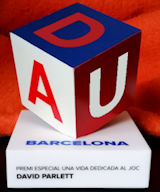 awarded one of three Daus Barcelona, mine being for "a life's dedication of games". The others were for the best game published in 2016, which went to Rob Daviau, of Restoration Games, and one for the best game of 2016 published by a previously unpublished designer. (This was a Frenchman whose name I can't remember, but I'll insert it as soon as possible.) It was a delight to visit Barcelona, of which I had previously experienced only the journey by taxi from the airport to the main railway station. I particularly enjoyed being surrounded by Catalan language and culture, to which I became enthusiastically accustomed many years ago in the course of a year's teaching at a school in Prades, Roussillon, the Catalan area of France. I visited the Picasso Museum and the Museu d'Història de Catalunya, and ate plenty of fried squid. More pics to follow, but here's one of the Botifarra tournament - that's the Catalan national card game, played with Spanish-suited cards.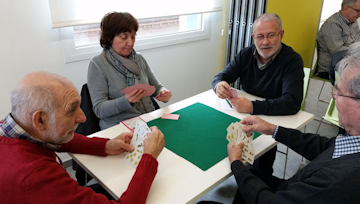 I was also interested to discover the Spanish game designers' association, "
Ludo
- Asociación Española de Autores, Ilustradores, Diseñdores Gráficos y Traductores de Juegos de Mesa".
22 November
Two pleasing bits of news to round off my year. (1) I've just been appointed
Visiting Professor of Game Design
at the University of Suffolk and will be visiting Ipswich on 7 December to give my presentation on Joseph Strutt's "Sports and Pastimes of the English People" (1801). (2)I'm to be presented with an award by the City of Barcelona Institute of Culture for "a lifetime of dedication to games" at a ceremony on 16 December.
1 November
Had a busy time at Essen last month, with two sessions of author-signing of Around the World in 80 Days at the Iello stand. Also saw mock-up of Chicken Out!, due for publication by Piatnik in 2017. Very pleased with the box design and cards by cartoonist Rooobert [sic] Bayer. Unfortunately came back with a bad throat that turned into a cold and had all sorts of contingent repercussions, from which I'm only now just recovering thanks to the NHS.
24 September
Back from the Musée Suisse du Jeu on the edge of Lake Geneva after my talk on Joseph Strutt's Sports and Pastimes of the People of England (or, as he preferred to call it in Old English, Glic Gamena Angel Ðeod). Amongst games on display are the prototype and first two editions of Hare & Tortoise. Entitled "So British!", the exhibition runs until August next year and the next talk will be
Let's Whist Again
by Thierry Depaulis on 24 October.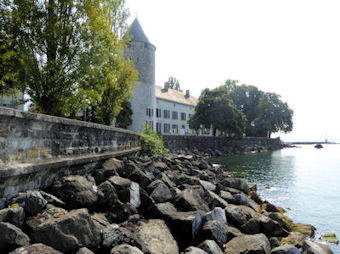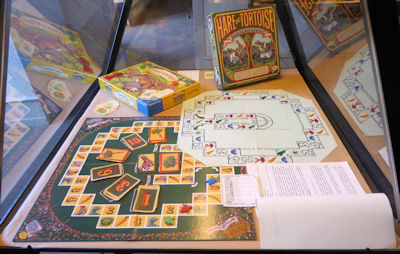 5 September
Almost finished writing my paper on Joseph Strutt's
Sports & Pastimes of the People of England
, with accompanying Powerpoint presentation, to be delivered at the Exhibition of British Games,
Swiss Museum of Games
, on 22 September. The exhibition runs from 2 September 2016 to 2 August 2017. Amongst the exhibits will be my original prototype of Hare & Tortoise. Other talks in this series will be: Thierry Depaulis on Hoyle ("Let's Whist Again"), 24 November 2016
Irving Finkel on Edward Faulkener, "Man and Scholar", 26 January 2017
Ulrich Schädler on William Fulke as games inventor, 16 February
James Masters on Pub Games in Britain, 23 March
Adrian Seville on 19th-century English Moral Race Games, 11 May
Edward Copisarow on How Pachisi became Ludo, 22 June. These experts are all members of the International Board Game Studies Association.
2 August
Added
Dumbo
and
Counterpique
to my collection of original card games. Dumbo is a three-player version of
Collusion
, in which you aim to win exactly a many tricks as one other player. Counterpique, or Contract Piquet, is an updating of the classic card game Piquet. I developed it (with Andrew Pennycook) in the 1980s and included it in my Penguin Book of Card Games, and have now added it by request. In response to another request, I looked again at
Trebleduck
, the three-player version of Duck Soup, to make some corrections and finished up by substantially simplifying it. I'm delighted to find that
Duck Soup
, in one or another of its incarnations, continues to be one of my most popular games.
13 July
Added a new game to my
Original Card Games pages - to try it, see
Secret Agent
. Just heard that my
Roman Dice
game is to be published in France by Gigamix and in Italy by Giochi Uniti. And here (right) is the box for Scaredy-Hare, the Russian version of
Chicken Out
. I'm not keen on its being designed as a game only for young children, as there's much more to it than that.
1 July
Added EU flag to front page to show that not everyone of my age has become fossilised. In my part of London (Lambeth) the Remain vote was 79%, second-highest in the country I believe.
25 June
I voted to remain in the EU but sadly it was not to be. Nevertheless, the
Swiss Museum of Games
will be going ahead with its exhibition of British games, ancient and modern, from this September till mid 2017. I've been invited to kick off a series of talks by British members of the
International Board Game Studies Association
by looking at the writings of Charles Cotton, Francis Willughby, Thomas Hyde, and (mainly) Joseph Strutt: "Sports and Pastimes of the People of England". Future contributors include Thierry Depaulis, Ulrich Schädler, Irving Finkel, James Masters, Adrian Seville, and Edward Copisarow.
8 June
Just back from the annual games inventors fair at Göttingen. Verbally agreed publication of my abstract game Colorado in 2017, but won't believe it till I sign the contract. Rep of Russian company Igrology Games liked my Chinese Take-Away game and wanted a prototype, but I wasn't the only person who felt a bit unsure about him. Pictures below: Tense moments in my Chinese Take-Away game, two general views of the event, and Fred Horn (right) demonstrating his Eggs game.
20 May
Gibsons Games
are to publish my card game "Chicken Out!" in the UK and Ireland next year. That's in addition to publication by
Piatnik
in western Europe and
Hobby World
in eastern Europe. I'm now looking for publishers in USA and China. Also out this year will be my board-game version of "Around the World in 80 Days", to be unveiled by
Purple Brain Creations
at Essen in October. And my card game
Ninety-Nine
is to be published by - appropriately enough! -
999 Games
(Netherlands), with each suit representing a different season of the year. I'm now preparing prototypes of more games to show at the Göttingen games inventors fair over the first weekend of June, so it's all go on the games front.
1 May
For the past few weeks I've been unable to upload to my websites because of a faulty router, which I have now replaced. So I shall be starting today and hoping to continue during the week.A few weeks ago I attended the 19th annual Colloquium of the Board Game Studies Association. This year it was brilliantly organised by the
German Games Archiv
at the historic
Pellerhaus
in Nürnberg. My (revised) paper entitled "Are we playing the game or is the game playing us?" (see here for the
original version
) was surprisingly well received. I was pleased to learn that the 20th, in 2017, will be held for the first time at Copenhagen, and the 21st, probably, in Athens. I've just heard that my new abstract board game "Colorado" is to be published in Germany next year by
Huch
Spiele. It bears only a slight resemblance to the one of that name described in my Oxford History of Board Games. More later. When I've done as much website updating as seems essential for the moment I must start getting together the game prototypes I will be taking with me to this year's games inventors' fair at Göttingen over the first weekend of June.
4 February Attended the BTHA Toys and Hobby Fair at Olympia last week and was pleased to see that Gibsons Games have relaunched "Wembley". I've no interest in football, but when I play-tested it years ago for Games & Puzzles magazine I liked it so much that I asked to review it. After that it was the Nürnberg Toy Fair for the umpteenth time - this time in beautifully sunny spring-like weather, albeit very cold. A successful trip - Piatnik Games have since sent me a contract for their publication of my card game Chicken Out (derived from Bravado) in Germany, Austria, Switzerland, Hungary, Czech Republic, Slovakia, Poland and France. Those can be added to Hobby World's territories (Russian Federation, Ukraine, Belarus, Kazakhstan, Uzbekistan, Georgia, Armenia, and Azerbaijan) where it's due out later this year.
13 January I've been busy on too many fronts other than games for over a month now and suddenly have a lot of work to catch up on, not least of them sorting out my income tax return for 2014-15. Last Saturday I joined a small gathering of games people including Ulrich Schädler, Director of the Musée Suisse du Jeu, who's preparing a large exhibition of British Games at the Museum from September 2016 to June 2017. Now I'm getting stuff together for the annual Spielwarenmesse at Nürnberg at the end of the month. I've one new prototype to take with me, and hope I can look forward to hearing progress on the publication of two or three other new games scheduled for this year.
12 November I've been taking a rest from games for a while in order to upgrade my non-games web pages at www.davpar.eu. 21 October An enjoyable and profitable time at the Essen games fair a couple of weeks ago. Besides having three new games out in Germany this year (see my published games page) I have two certain new publications out next year and another two probables. I'll add these to my published games page as soon as I have some advance designs to show. I now have a bit of breathing space to work on new possibilities in the hope of having something else to tout around at the Nuremberg Toy Fair in January. At Essen I was delighted to meet my old friend John Humphries, one of the original games testing panel of Games & Puzzles magazine in the 1970s. Though no longer active on the games front, John has had a number of books published on a variety of subjects. Next up is the British Toy Fair at London Olympia in January.
Nice titles seen at Essen: Exploding Kittens, Broom Service. Plus the inevitable dinosaur, and, bottom right, members of the Letter Game Club, Hannover, getting to grips with my Roman Dice game (photo thanks to Dorle Burgdorf).
1 October Busy preparing for the Essen games fair next week. Just received advance copies of my Roman Dice game. A very smart production from Amigo Games.
21 September Besides preparing games for the Essen Games Fair I've been busy rearranging my websites and making them mobile-friendly - quite a long job, but very satisfying. Now all my games stuff is here while www.davpar.eu will remain the repository of my other interests and activities.
30 August Just had a request from a Polish publisher for rights to translate my Oxford History of Board Games into Polish. This might revive its fortunes in Britain, where Polish is the second most widely spoken language!
23 August The Hare & Tortoise
world championship at the Mind Sports Olympiad was won by James Heppell (England), a regular competitor, for his first time. Silver went to Madli Mirme (pictured), from Estonia, and Bronze to defending champion Matthew Hathrell. Fascinating to see Estonia keeping up its contribution of about one quarter of the total number of players. Estonia's Andrew Kuusk, champion in 2013, slipped down somewhat this year.
22 August Revised my home page, hoping it's now mobile-friendly without compromising what I really wanted. More useful techniques learnt today!
21 August Getting ready for Hare & Tortoise championship at the Mind Sports Olympiad on Sunday at 7pm. Also making progress - slow, but promising - in making my website mobile-friendly. It may not be essential, but I enjoy learning new techniques, which is what games-playing is all about. Talking of which, I've just received the first issue of Game & Puzzle Design. Absolutely first-rate. I look forward to its continued publication. I may even contribute!
10 August Having learned that the internet is now accessed more by smartphone than by computer, I find myself faced with the daunting task of either making my website mobile-friendly or offering an alternative dot-mobi site. I've registered the necessary mobi domains for this eventuality and have started converting some of my existing pages. It's going to be a long job...
4 August Even more improvements from my cataract operation of last week - I can now drive, read, watch TV and computer screen without glasses! Haven't been able to do this for about 10 years.
I've started work on re-establishing this website under a new name, since www.davpar.eu has been compromised by some half-wit buying up the www.davpar.com domain that I deliberately allowed to lapse.
29 July A cataract operation on my right eye has improved my vision enormously! Print now looks black on white instead of dark grey on light grey. I have at last posted some pictures I took at the Playing-Card Museum at Issy, Paris, last month. They should be visible at my Picasa web album page.
4 July A card game of mine called Chicken Out, which I demonstrated at Göttingen in June, has just been accepted for publication by Hobby World, the first and biggest Russian publisher of European-style games. More anon.
19 June Amazed to see I haven't updated since April, but the last few weeks have been full of games events involving travel, and it'll take ages to sort out all the stuff I've collected and pics I've taken. 29-30 May was this year's Games Expo at Brimingham, which was, as usual, packed with new games, new faces and new ideas. 5-6 June was the turn of the annual games designers fair at Göttingen, where I had several things on display - some new, some old and unpublished but still worth playing. I have one new game (my Roman dice game) coming out in October at the Essen games fair, and three more still being play-tested by publishers who have yet to decide which, if any, they will bring out in their 2016 range. Finally, in the current series, there was the marvellous open-air Paris Ludique event at Bercy, a delightful part of the city I'd never visited before but will look forward to doing so again - especially if the weather is as hot and sunny (31 C) as it was on 13-14 June. My main purpose was to discuss with Benoî Forget, of Purple Brain Creations, the possibility of producing a newly-themed adaptation of Hare & Tortoise. The contract is signed, and the new game is due for publication in September 2016. While in Paris, I managed to get to the at Issy, which I've always missed out on before because I don't seem to have been in Paris on days when it was open. It's a wonderful display - had I known how big it was I'd have gone earlier and spent the whole day there instead of just a couple of hours in the afternoon.

Games Expo, Birmingham: Steffi, of the
German Games Museum Nürnberg, plays Camelot

Games Expo, Birmingham: A nice
little dice game by Cubiko

Göttingen gamesters - just one of several
halls full of aspiring games designers

My table at Göttingen

My deceptively simple-looking game of Colorado

I call it the Bluestone

Games for sale at the Village Ludique

Display map of Village Ludique

At the Playing -Card Museum, Issy:
Anyone for a trompe-l'oeil plate of cards?

Issy: Card-players' accoutrements
21 April Just back from the XVIIIth Board Game Studies Colloquium held this year at Musée Suisse du Jeu, La Tour-de-Peilz, Switzerland. Excellently organised by museum director Ulrich Schädler, it gave us 39 paper on a variety of topics ranging from boiard games of Ancient Egypt to a (necessarily!) brief history of pervasive games. As I have three new games coming out this year I've taken the opportunity of updating my published games page.
6 April Yesterday I discovered that the domain name davpar.com, which I don't use but thought I had renewed up to December 2015, has been hijacked by one David Chell, an inhabitant of Brunoy (Paris). Not only that, but having introduced himself as "Dan", he has then gone on to cut and paste most of my games material and pass it off as his own, without aknowledgement. At the moment I'm trying to find out how this has happened and what, if anything, I can do about it.
30 March Started revising my Games to Play pages. Originally these were all interactive games programmed by Eric Solomon using Java. Unfortunately they didn't all work on all browsers and Eric is now too unwell to revise them. So instead I'm filling it with rules of games of my invention played with the sort of equipment any self-respecting games-player should have readily to hand - pencil and paper, dice, chessboards and draughtsmen , and even, when I get round to scanning them from Games & Puzzles magazine, games to play on a London pub dartboard. Original card games and word games already have pages of their own.
28 March Redesigned my sitemap page.
19 March 2015 Just redesigned my front page and this morning uploaded an article on the Chinese origin of card games. Earlier this month I ran a workshop on race games for (computer) games design students at University Campus Suffolk by invitation of course leader Eddie Duggan. Very promising - these students are full of ideas!
8 February 2015 Can't believe it's this long since I last updated! Shows how busy I've been. In January went to the Nürnberg Spielwarenmesse with some prototypes of new games and to see the unveiling of my newly-published "Sushispiel", which started out life - in 1991!- as Foo Yung's Chinese Take-Away Game. I've been showing it at the Göttingen Games Designers' Fair for the past n years and several publishers have considered but eventually declined to publish it. Last year I showed it at the München-Haar Fair, where it attracted the attention of Dusyma, not primarily a games company but one specialising in educational toys, equipment and resources. They replaced Chinese dishes with models of sushi and produced this lovely version designed by Teresa Schulten.

Designer Teresa Shulten; detail of new SushiSpiel; the Chinese original on display at Göttingen in 2009
I was hoping also to see an advance copy of my Roman Dice game to be published this year by Amigo Spiele, but it's been held up and won't be in the shops till August. Two more of my games are currently being assessed by other manufacturers, and the prototypes of three more that I took with me are now also under consideration. Things are definitely looking up on the games-inventing front!
18 December 2014 Sorry to learn earlier this month that my friend Eric Solomon, the renowned games inventor whom I've known since Games & Puzzles magazine first appeared in 1972, had fallen while getting out of a bus and was ensconced in London University Hospital. He certainly looked the worse for wear when I visited him a couple of weeks ago. He's out now and says he's being well looked after, so I plan to visit him as soon as possible. I've just finished Gaston Dorren's excellent "Lingo" - the most entertaining and informative language book I've read for years. Next I'll be embarking upon Stephen Pinker's "The Sense of Style". On the website front, I've adding to my historical card games section a page on Europe's oldest card game Karnöffel, prompted partly by a recent commission to correct an infographic on card-game history (which I'll link to when it's published). Also added a literary extract to my page on Costly Colours.
1 December I didn't realise it was so long since I last updated! Shows how busy I've been on the games front. Went to the Essen games fair as usual, and have now signed contracts for three new games to be published next year. Details to follow when they are officially unveiled. I also took with me prototypes of a new abstract board game which two companies are now play-testing. Fingers crossed! Having now disencumbered myself of various non-ludic commitments I hope to spend more time developing new games next year, and have already made prototypes of a card game of which I have high hopes. I've registered to visit the British Toy Fair in January 2015 (20-22 January), but think my games are more suited to the German market so probably won't be pushing anything there.
11 October At last I'm free of hospital treatment and able to resume normal life - a fact I shall celebrate by attending the Essen Games Fair from Thursday 16 to Sunday 19 October. I have a couple of new games coming out next year (more news later), and will be taking a few prototypes of even newer ones with me. Meanwhile, on the website front, I've just updated and redesigned my word game pages.
3 October Oh dear - I seem to have invented another card game. Didn't mean to, honest. This one's supposed to be fun - see Bravado and judge for yourself. Also: added a Glossary of card-playing terms.
27 September My operation didn't take properly and I have to undergo another fortnight of treatment. I've just posted a revision of Hindsight (see below).
23 September Uploaded a new two-player card game (Hindsight) invented while lying in a hospital bed staring at the ceiling. Surprising what inspiration is to be found in ceilings.
13 September Another new card game: Hoodwink is a quite amusing one for three players. This burst of creativity has been due to a period of enforced idleness caused by the side-effects of the antibiotics I've been taking to clear the decks for an operation on the 19th.
12 September Here we go again. I don't know why so many of my new card games are arithmetical. Probably because I like everything to do with numbers, but perhaps also because I'm aware that this is an insufficiently explored genre compared with, say trick-taking, rummy and shedding games. This one, called Key of the Door, is for 2 to 5 players. It's rather tricky and requires close attention.
6 September
Added yet another new card game made by solving the problems that left it unfinished several years ago. It's called
Cloud Nine
.
25 August
Since I last wrote (see 12th August), I've been revisiting my Original Card Games and polishing up some that had been on the stocks for ages. The new entries are
Cato
, based on Ecarté;
Centurion
, an adding-up game;
Doubleduck
, the partnership version of
Duck Soup
;
Good Cop, Bad Cop
, a partnership trick-taker;
Nimbly
, a multi-player derivative of
Abstrac
(to which I have also added a variation); and
One Up
, another arithmetical game. I hope this sudden spate of creativity will stand me in good stead as I prepare new games to take to the Essen games fair in October. Last week, specifically 22nd August, I conducted the latest Hare & Tortoise world championship at the 18th Mind Sports Olympiad, won this time by Matthew Hathrell. We had 16 players, which was ideal in the sense that it meant there were four at every table instead of four at most and three at some. Pity I forgot to take my (nice new) camera, though.
13 August
I can remember when I used to invent a card game a month. Nowadays I'm lucky to come up with one a year. Last year's was
Brummy
, which was basically just another adaptation of Rummy principles. Now I've just come up with
Spiraliter
, which is a sort of spiral Cribbage, and have polished up an arithmetical one called
Give or Take
, which has been hanging around for years, gathering dust.
12 August
Spent most

Me at bar billiards.
(Photo: Bruce Whitehill)
of July upgrading my website to HTML5 and revising and expanding my pages of
historic card games
, to which I have now added Blackjack and Ombre. (Blackjack historic? Yes, if you include its ancestors. It goes back a long way.) Recently discovered the delights of
Bar Billiards
and wondered why I'd never come across it before. Probably because I'm not much of a pub-goer and have never gone to the right ones. This (
right
) was taken at The Bell, Walton-on-the-Hill, Surrey.
28 June
Just received

Looks more like
Speedy Gonzales
advance copies of the new Spanish-Portuguese-Catalan edition of Hare & Tortoise to be published in November by
Devir Iberia S.L.
for distribution in Spain, Portugal and South America. Delighted to have the rules in Catalan, with which I became acquainted when I spent a year as a student-teacher in the Roussillon (Pyrénées Orientales), the French remnant of the old Kingdom of Catalonia. The design - not amongst my favourites - is that originated for the Abacus/RioGrande edition in 2000.
23 June
I was due to go to this year's games inventors fair at Göttingen in early June but unfortunately had to cancel it owing to illness arising from diabetic complications and associated infections. I've also had to cancel the trip to New York I was promising myself in the first week of July. I hope to have got all this stuff over and done with so that I can attend this year's
Essen Games Fair
in October.