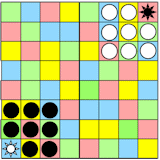 Start Place your pawns initially as shown above
Object To get any one of your pawns across to the diagonally opposite corner, or 'crowning square', as indicated by a crown.
Normal rules of movement and capture apply. A pawn is captured by replacement and thereafter remains out of play.
Basic rules

A pawn moves from red like a rook, from yellow like a bishop, from green like a knight, from blue like a king. It can move any distance up to but not beyond the next square of the colour it started from. It may not pass over or land on another pawn except to capture one of the opponent's.